Salzburgring: Tourenwagen Revival & Davide Cironi Experience
Can you even imagine meeting him by coincidence at the DTM Revival in Salzburgring?
Δες πρώτος τα νέα του GOCAR στο
Two and a half hours with Davide Cironi and the bella macchina Alfa Romeo 155 V6 Ti from ITC. Stuff that dreams are made of... and somehow (which i still haven't realize) last weekend that dream of mine (the most bizarre of them all) came true!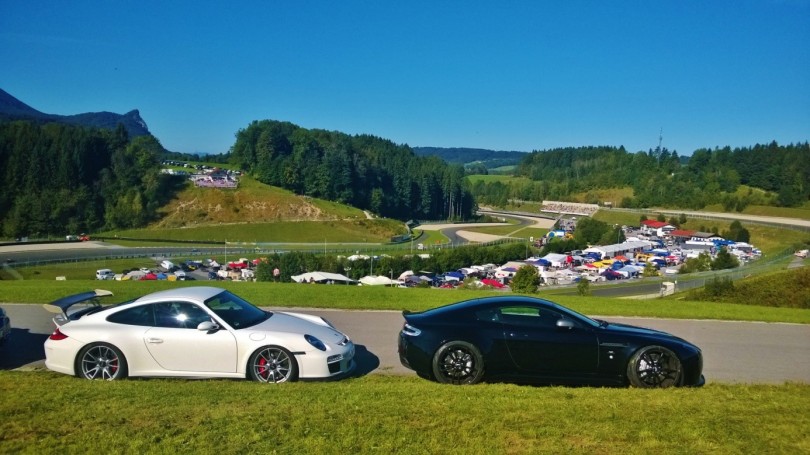 I drove to Salzburg on Friday, coz Mike -one of my closest friends for the past 10 years- was racing his Subaru GT at the austrian Histocup. "Built not bought", the car started as a rusty project and went soon from a fast daily sedan to a trackday weapon. Since last year, it's a fully fledged racecar, playing with the big boys. With its 330hp it's definitely the underdog, but the driver has balls and skills and this combination has always been good for surprises.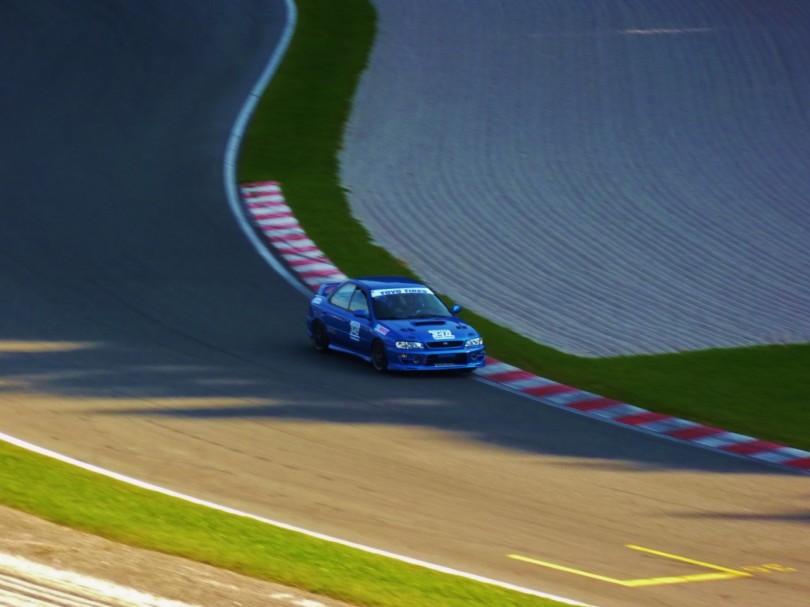 On Saturday afternoon we were walking across the pit wall and I was taking some fast shots, when I saw Davide coming towards me. I took the opportunity to say hello, as he is one of my favorite automotive journalists. Davide accepted at once, with a smile on his face and any hesitation of mine was already gone. I told him that I find him very good at what he does, that I am a big fan and I even watch his videos that don't have English subs. And sometimes I am lucky enough to be with people who have no idea about cars -but speak Italian- so they explain me. Right after we left to different directions. And this would have been it, if the picture we took together would have been enough for me and if he would have left the event the same day.
But he didn't. And when I greeted him next day and asked for 10 mins of his time, he answered: "Come and find me at the Alfa Romeo stand". I couldn't believe in my ears. He had 2 hours left and I spent the one of them to write down the 3 to 5 questions that I would possibly ask him. If I had the time. I don't know, never done it, never did, till then. Every stress indicator of mine was hitting its rev limiter. I was just hoping for a 10min talk. I went almost frozen where he was, even though the sun was shinning and the temperature was 26 degrees. He was watching the Alfa. He and other 30 people. And Christian Danner, one of the two drivers. All for this ex Fisichella ITC car, the superstar of the weekend. I started chatting with Davide. The 155 was watching…
We were jumping from one topic to other, so many things to say, even more to hear and I still hadn't touch the piece of paper I had by me. And the time was passing. So I did. I asked my questions.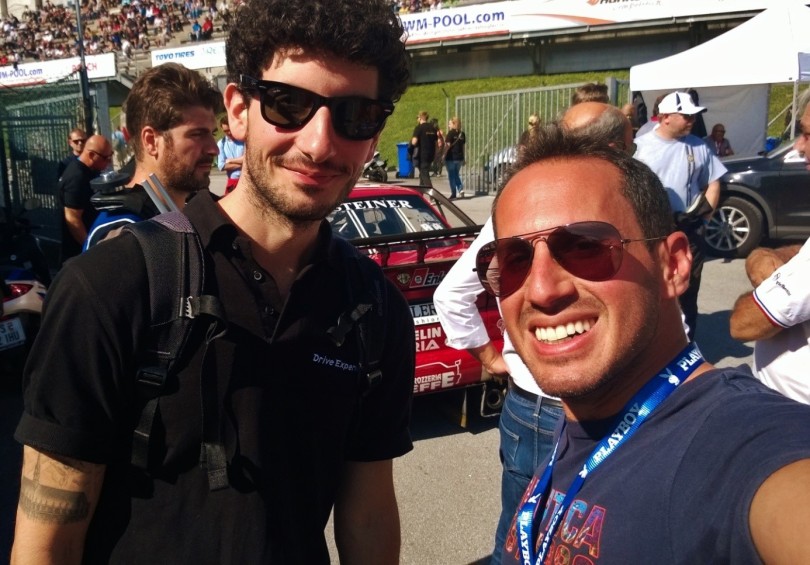 " For some of us –me for sure- you have one of the best jobs on this planet. How hard is it behind the scenes?"
With the typical smile on his face he answered me just a "very". He continued with telling me that he hadn't sleep much for over a year, but right after we switched again to cars. To his own, his Porsche 996. "Black" as he said. "Black with cream interior. As all of my cars, past and future ones". The Carrera 2, with GT3 suspension and straight pipes, that during raining days it stays in the garage. "Coz then it's trying too hard to kill you. But then… what's more satisfying than that"? We agreed.
PK: "Favorite car and favorite road on an early Sunday morning"?
DC: "Alfa Romeo GT Junior '68 Stepnose with 3.2 engine and my roads. On the Appennini. Black…, with cream interior of course".
PK: "Favorite Supercar"?
DC: "Ferrari F40 but I also love the F50, Miura, EB110, 288 GTO and 250 LM…".
PK: "Which car was your biggest surprise in terms of driving pleasure"?
DC: "The NSX definitely. I didn't expect it to be so impressively good to drive".
(I know Davide…, I saw your video… :D .)
PK: "Which car divided you the most? The one that you expected more and got less".
This one made him think a bit, as he chooses to drive the creme dela crème of each decade. To my biggest surprise the answer was the Pagani Huayra. But the reason was "only" its 7-speed sequential gearbox, which will be in the first 100 units. And then you get in a discussion like "Zonda or Huayra" leading to "Normally Αspirated engine or not", and he says "Zonda and N/A". Unfortunately downsizing and co2-emissions have another opinion…, with a not so promising –for some romantic ones like us- future.
PK: "Hatchbacks"?
DC: "No, I prefer Coupes. They are a handful to drive, but the looks…"
One more big surprise for me, as he has driven every single Legend, even the ones to be.
PK: "70's, 80's, 90's or 00's? Mostly preferred as driver focused"
DC: "60's and 90's"
PK: "Countries of favorite cars?"
DC: "1st place Italy of course, 2nd place England, 3rd place Japan and Porsche"…
The discussion went to Mclaren F1, Jaguar E Type, Honda Integra, NSX. "Still none of them has the soul of the first one". Typical Alfista!

The Alfa came to life one more time and we -like little kids-… staring. You can't get used to this sound. Never. The Diva drove to the entrance of the racetrack. Together with all the others. Some of the best circuit racecars of all time. We followed her till there, talking, laughing, like old friends, with Davide being so open, so down to earth. Unique class of a man. Showing me pics of his project Junior at his broken smartphone, making up our minds about how 911s are so wrong but so right, telling me about his full monthly schedule, with amazing cars and invitations that he unfortunately has to postpone or even reject. And then a crazy me, volunteering for an imaginary small team of his. I couldn't find a better solution for him, in order to make it all. Dreams are for free…, right?!
The 155 started the race, doing what she knows best. Leaving all of them behind. Later at the evening i drove back to Innsbruck. 2 hours, sunset, no radio, just lost in my thoughts. My "Cironi experience" during another amazing weekend in my beloved Salzburg and only the 6 cylinder sound of my 323ti at the background. Silver, not "black". :p